hazardous fuels reduction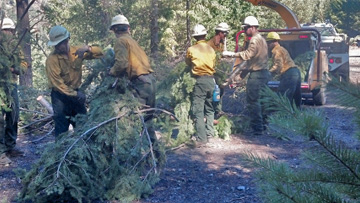 Wildfire – The word instills fear for homeowners in the wildland urban interface and we hear it every summer all over the media. The good news is there are simple steps you can take to help save your home and your neighboring homes in the event of a wildland fire.
While there is no 100% guarantee against the devastating effects of wildfire, Firestorm can assist you in developing a sustainable approach to keeping your property safe. We utilize a multi-faceted approach to vegetation management from simple weed abatement to large scale tree and brush thinning projects catered to each individual homeowner's needs.
fire safety assistance
Below are some of the services we may recommend after assessing your property:

services incluDe
Mastication

Chipping

Firebreak construction and maintenance

Hazard tree removal

Pile burning

Lot and right of way clearing

Home wildfire assessments

Foam and gel application products
We are here to help
From the single residential homeowner, property management companies, homeowner associations, insurance companies to Federal/State Government land management agencies, Firestorm has literally assisted thousands of people in keeping their property Firesafe. We take pride in being the most diverse, experienced and highest qualified company in our industry.
We are Firestorm – experts in our field helping people feel safer and
able to enjoy the natural beauty of their property.
SAFETY, QUALITY and PERFORMANCE
We are constantly training and keeping ourselves abreast of the latest scientific studies of protecting homes and property against the forces of wildfire. You can be assured when doing business with Firestorm, you will be employing local highly trained firefighters to accomplish your project along with getting information about the maintenance required for your project. You will be surprised by the affordability and with annual maintenance the simplicity of keeping your home fire safe. We pride ourselves by being very cost effective! We are flexible to payment plans and arrangements in order to be able to help homeowners feel more secure with their property during fire season.